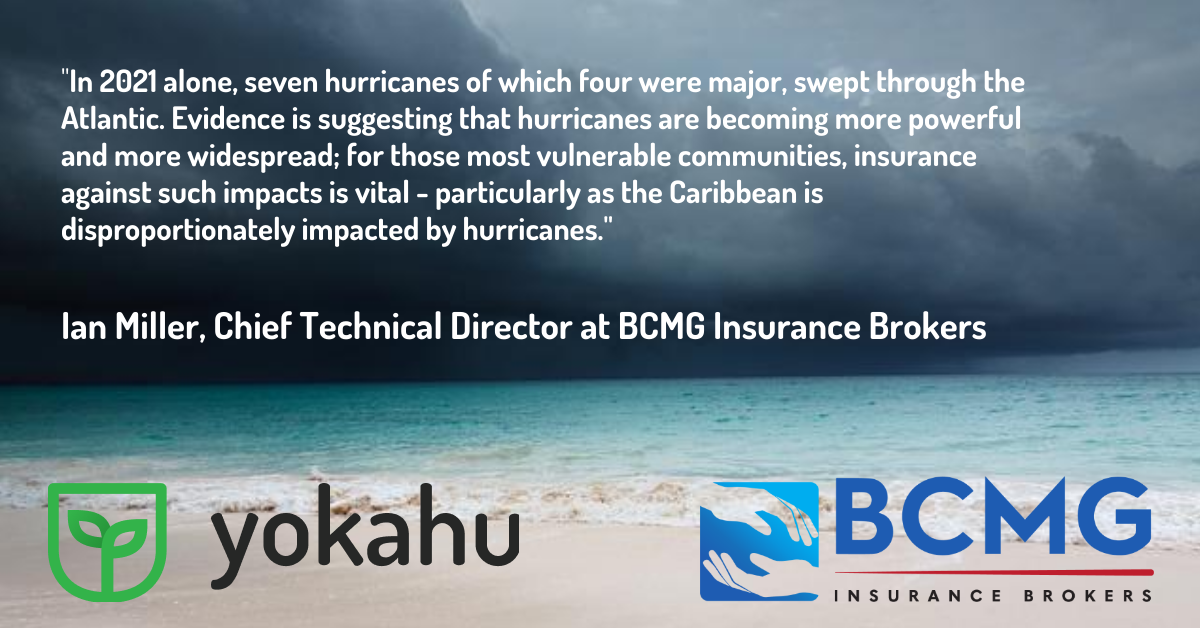 First partners for parametric insurtech offering its unique Hurricane Insurance Emergency Expenses product
London, 23rd May 2022: Yokahu, an insurtech using parametric underwriting and data visualisation to provide Hurricane/Tropical Cyclone protection, announces today the launch of strategic partnerships with four key insurance brokers based in the Caribbean: BCMG Insurance Brokers Limited in Jamaica; Colina General Insurance Agents and Brokers in The Bahamas; W J M Holdings Inc in Saint Lucia; and Caribbean Risk Group LLC in the US Virgin Islands.
Launched ahead of hurricane season, which starts on 1st June in the Atlantic, the innovative parametric approach adopted by Yokahu means that payouts can be made within 24 hours without policyholders needing to lodge a claim or deal with loss adjusters in the event of a major storm. 
By working with four of the leading insurance brokers in the region, Yokahu is ensuring effective distribution of this solution to the people who need it most – driving to close the protection gap further and improve the resilience of local families and businesses in the run-up to the hurricane season.
In the event of wind speeds reaching over 74 miles per hour above an insured location, funds – currently up to US$10,000 depending on the strength of the hurricane – are transferred directly to the claimant's bank account or digital wallet, usually within 24 hours. The money can then be used immediately following the hurricane to cover emergency expenses such as buying food and water, repairing a home or securing a power supply.
Tim McCosh, CEO and Founder of Yokahu, said:
"Uptake of hurricane insurance in the Caribbean is low and yet these communities are disproportionately at risk to the impacts of hurricanes. Yokahu is aiming to increase access to hurricane protection for everyday people by providing affordable parametric-based policies. 
One of the key takeaway actions from COP26 was the ongoing urgent need to improve financial access for vulnerable communities but insurance products continue to be unaffordable in the main for those communities that really need this protection. So we are delighted to be partnering with our first four brokers in the Caribbean to offer our microinsurance product and begin to change this paradigm.
Opportunities are numerous for this product, particularly as we are also exploring ways to offer Yokahu insurance through local businesses as an employee benefit. Working together, we can help to make effective hurricane insurance across the Caribbean more affordable and take steps to tackle the region's estimated US$50 billion protection gap. 
Premiums through Yokahu start at just US$5 per month, and when a hurricane hits a person's home, they automatically receive pre-agreed pay-outs when certain triggers are met. There is no claims process – and customers, therefore, receive funds immediately."
Ian Miller, Chief Technical Director at BCMG Insurance Brokers, said:
"In 2021 alone, seven hurricanes of which four were major, swept through the Atlantic. Evidence is suggesting that hurricanes are becoming more powerful and more widespread; for those most vulnerable communities, insurance against such impacts is vital – particularly as the Caribbean is disproportionately impacted by hurricanes.
Thanks to its low premiums, and the fact the product is entirely digital, Yokahu hurricane policies are more accessible to a greater number of people, and because funds are automatically paid following a hurricane, rebuilds can begin immediately, helping stimulate growth for both the local community and wider economy. From the insurance point of view, the beauty of the transparency of the parametric trigger makes everything clear for policyholders.
We and our broking colleagues at the other three firms are also excited to be able to offer this product as a form of employee benefit and look forward to encouraging local businesses, especially hotel groups, to take up Yokahu hurricane protection for their employees, which in turn will also help lower the financial impact following a hurricane in the region."
Notes to Editors:
About Yokahu
Yokahu, is a parametric insurtech start-up that brings affordable Hurricane and Tropical Cyclone insurance and rapid disaster relief finance to vulnerable everyday people in the path of major storms.
Its first product offers affordable, fast paying and simple natural disaster protection and provides access to catastrophe insurance to previously neglected markets and helps alleviate the immediate and long-term economic impacts of the disaster. Yokahu's mission is to be the first answer in protecting communities from natural disasters by providing access to new, affordable products and dedicated rapid support.
In the UK, Yokahu is a trading name of McCosh Holdings Ltd. McCosh Holdings Ltd and is an Appointed Representative of ES Risks Limited. ES Risks Limited is authorised and regulated by the Financial Conduct Authority.
For more information, please visit: www.yokahu.co
PR Contacts at Lysander PR
Roddy Langley
+44 7547 901 618
Helen Wright
+44 7842 729 579
Steve Colton
+44 7554 889 056