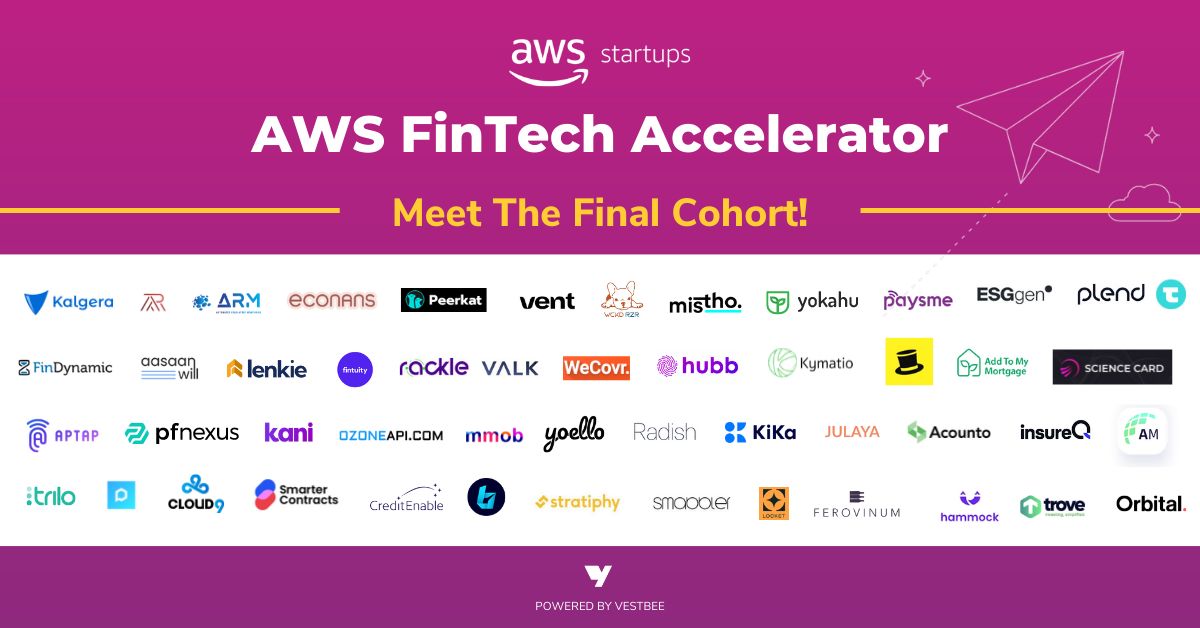 Expansive and ambitious insurtech Yokahu selected among 50 UK startups for six-week AWS Fintech Accelerator programme 
London, 5th September, 2022: Yokahu, the pioneering insurtech using parametric underwriting and data visualisation to protect climate-vulnerable communities and businesses, announces today its successful acceptance onto the Amazon Web Services (AWS) Fintech Accelerator. 
The AWS Fintech Accelerator is an equity-free programme focused on supporting the growth of high-potential startups in the fintech industry. Starting on 9th September, Yokahu will take part in the first AWS accelerator programme for the UK market, designed for early-stage, pre-seed startups with at least one in-house technology lead. 
AWS is the cloud division of technology giant Amazon and 50 businesses developing innovative solutions will be put through a six-week accelerator programme. Businesses in the accelerator will receive comprehensive technology, strategic and fundraising support, up to US$100,000 in AWS Activate Credits, access to the leading VC funds, industry experts, and free tools to accelerate the growth of their business.
The initiative is supported by Vestbee, one of the largest European platforms for startups. The accelerator programme ends with a Demo Day on 27th October.
Tim McCosh, CEO and Founder of Yokahu, said:
"We are really proud to be one of the 50 startups selected for the inaugural UK fintech accelerator under the AWS programme. Yokahu participated in the EMEA-wide AWS Startup Loft accelerator programme earlier this year, and it is very prestigious to be selected for the UK-only launch.
Yokahu's vision is based on a working understanding and empathy for climate-vulnerable people. Through our leading development of parametric insurance, we are in a unique position to provide financial cover to those worst affected by extreme weather events who would otherwise be excluded from traditional insurance policies. 
Since our launch in 2021, we have seen huge demand and interest in how parametric products can help close the climate protection gap and increase the resilience of vulnerable communities and businesses. Above and beyond our initial hurricane proposition, we are focused on developing more applications for parametric products – from drought and crop protection to loan default protection after a major event. 
The potential benefits of the Yokahu approach are enormous – an entire world at risk of extreme climate events – but its appropriate application is specific: parametric insurance is ideally placed to cover what traditional insurance cannot. We are a young company in an innovative sector, and the support and guidance of accelerator programmes like the AWS Fintech Accelerator is invaluable as we strive to make a difference to businesses and individuals."
– ENDS –
Notes to Editors:
About Yokahu
An approved Coverholder at Lloyd's, Yokahu is a parametric insurtech start-up that brings affordable Extreme Weather insurance and rapid disaster relief finance to vulnerable everyday people Its first product offers affordable, fast paying and simple natural disaster protection and provides access to catastrophe insurance to previously neglected markets and helps alleviate the immediate and long-term economic impacts of the disaster. Yokahu's mission is to be the first answer in protecting communities from natural disasters by providing access to new, affordable products and dedicated rapid support.
Yokahu is a Climate Science Partner with the University of East Anglia. 
In the UK, Yokahu is a trading name of McCosh Holdings Ltd. McCosh Holdings Ltd and is an Appointed Representative of ES Risks Limited. ES Risks Limited is authorised and regulated by the Financial Conduct Authority.
For more information, please visit: https://yokahu.co/
PR Contacts at Lysander PR
Helen Wright
+44 7842 729 579
Roddy Langley
+44 7547 901 618
Steve Colton
+44 7554 889 056