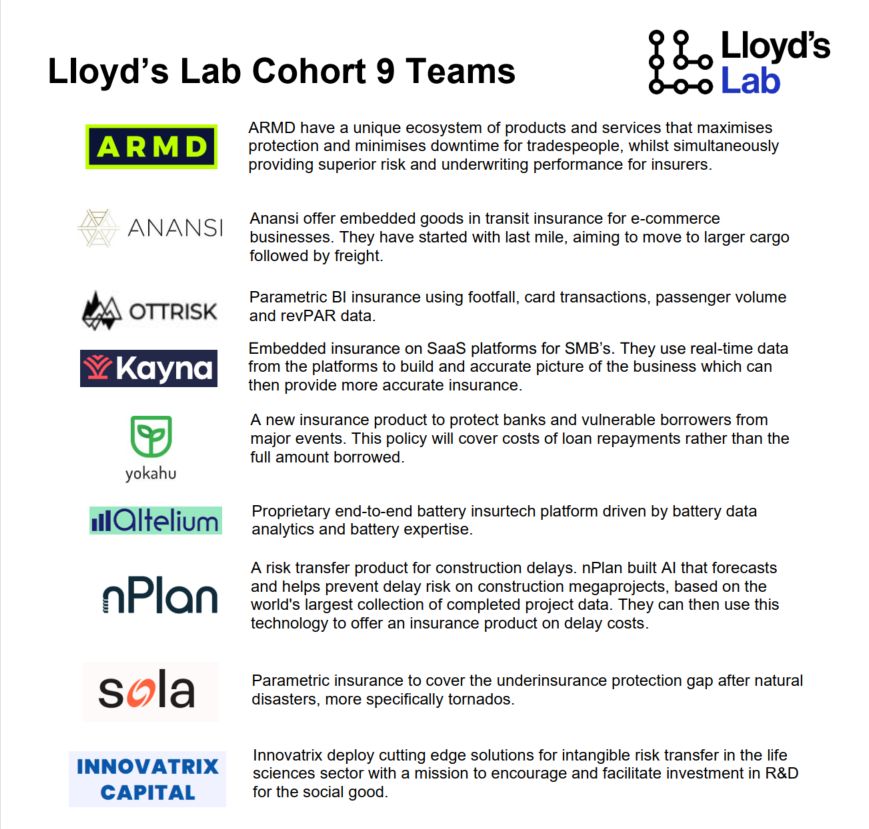 Pioneering Yokahu product is among 9 successful insurtechs and innovators selected for leading global insurtech accelerator, Lloyd's Lab
London, 13th September, 2022: Yokahu, the insurtech using parametric underwriting and data visualisation to protect climate-vulnerable communities and businesses, announces today that it has been selected for inclusion in the ninth cohort of leading global insurtech accelerator, Lloyd's Lab in order to develop a groundbreaking parametric Loan Default Protection product. 
Yokahu's innovative parametric product was selected following a competitive pitching process. The product will be embedded into, or offered alongside, a loan such as a mortgage. Defined weather events such as Hurricanes, Floods or Wildfires would trigger the insurance to cover the repayments for interest for an agreed period of time and reduce the likelihood of default.
The Loan Default Protection product will benefit customers by creating a repayment holiday after a catastrophic weather event that has placed them in hardship, protecting their credit rating while freeing up their budget for other essential costs such as rebuilding their home or business. 
The benefits for lenders include lower default rates and increased resilience to defaults following catastrophic events, allowing them to offer more competitive lending rates. By embedding Yokahu's parametric loan risk transfer product within loan terms, banks can also lower the cost of administering non-performing loans, all the while helping customers feel more supported and be part of a drive to improve individual and local economies' resilience to catastrophe. 
Tim McCosh, CEO and Founder of Yokahu, said:
"We are delighted to be accepted into Lloyd's Lab, a prestigious leading global insurtech accelerator. The focus for Lloyd's Lab Cohort 9 was solutions that can help the Lloyd's market understand customers' risks better, respond even faster to incidents, or provide a better service to its customers. 
We feel Yokahu's parametric Loan Default Protection is a natural fit for Lloyd's Lab, helping solve the challenges faced for both customers and lending banks in the wake of catastrophe. Extreme weather losses are rising with climate change and when catastrophe strikes, an individual may need to divert funds they were using to repay a loan to help with their immediate recovery and rebuilding – quite understandably, repaying a loan gets put to one side when you have more immediate and urgent financial needs.
At the same time, by protecting and supporting their customers during such difficult periods, a bank's own business becomes more resilient by avoiding a string of defaults. We are grateful to the Lloyd's Lab team and those present on the pitch day for accepting our application, and we are looking forward to making a difference to everyday people's lives as well as for businesses as we develop and launch this new product."
– ENDS – 
Notes to Editors:
About Yokahu
An approved Coverholder at Lloyd's, Yokahu is a parametric insurtech start-up that brings affordable Extreme Weather insurance and rapid disaster relief finance to vulnerable everyday people Its first product offers affordable, fast paying and simple natural disaster protection and provides access to catastrophe insurance to previously neglected markets and helps alleviate the immediate and long-term economic impacts of the disaster. Yokahu's mission is to be the first answer in protecting communities from natural disasters by providing access to new, affordable products and dedicated rapid support.
Yokahu is a Climate Science Partner with the University of East Anglia. 
In the UK, Yokahu is a trading name of McCosh Holdings Ltd. McCosh Holdings Ltd and is an Appointed Representative of ES Risks Limited. ES Risks Limited is authorised and regulated by the Financial Conduct Authority.
For more information, please visit https://yokahu.co
PR Contacts at Lysander PR
Helen Wright
+44 7842 729 579
Roddy Langley
+44 7547 901 618
Steve Colton
+44 7554 889 056